Let me introduce myself, my name is Gordana Čavlović and I live in Zagreb, capital of Croatia. My family and me breed colourpoint persian cats.
We have registrated cattery at FIFe from 1995.

Name ZUAMA HR, comes from names of my first cats Zuki and Ama.
I have purchased my first persian cat Alojz-Zuki in 1990 and from that moment on cats are my big joy and love.

We are presently very active in cat breeding and we participate on exibitions.
We have started breeding with our first colourpoint cat, Gita Makus-Ama and during time we have widdened our "cat family"with cats from cattery "Naplemente".
Some of our breeded cats may be seen by clicking on link "Adults".
Picture of kittens may be seen in "Galery", and present brood in "Kittens".
Harmony in our family is completed with samoyed dog named Lucky Windnorth.
It is a dog who likes people and animals and especially our cats, which have full confidence in him.
Lucky Windnorth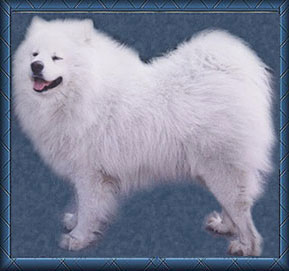 Our cats:

1.

IC. Naplemente Dreamgirl

several times nominated in Best in Show, especially beautiful dark blue eyes and very cute.

2.

IC. Zuama Lili HR
best in varietet, best in show, best of best lV, gracious and vivid

3.

CH. Zuama Nitza HR
especially harmonious and vivid cat.

4.

IC. Naplemente Buxus
real male-strong, with beautiful structure and muscles and beautiful eye colour.

5.

CH. Zuama Sandy Hr
My favourite male cat, I wonder is he dog or cat? Nobody can enter in house near him, when weather is fine he likes to lie down in garden.